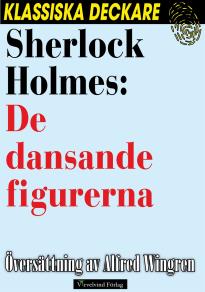 Isbn:
978-91-7677-164-8
Publisher:
Virvelvind Förlag
Category:
Crime & Mystery
Accessible since:
April 2016
---
Sherlock Holmes: De dansande figurerna
En klient anlitar Sherlock Holmes när han upptäcker mystiska tecken klottrade kring huset.

Trots att de små dansande figurerna ser ut som barnteckningar inser deckaren snart att de är något helt annat.  

När det dyker upp allt fler dansande figurer upptäcker snart Sherlock Holmes ledtrådar som tyder på att fallet med "De dansande figurerna" är allvarligare än någon anat.  

Den här berättelsen skrevs av författaren Arthur Conan Doyle, (1859–1930), och publicerades första gången på engelska år 1903 med titeln "The Adventure of the Dancing Men". Arthur Conan Doyle var ursprungligen läkare och skapade rollfigurerna Sherlock Holmes och doktor Watson med några av sina kollegor och lärare som förebilder.     

Den här svenska texten publicerades år 1930 i novellsamlingen "Den återuppståndne Sherlock Holmes".   Den här översättningen till svenska gjordes av Alfred Wingren (1881-1928) som växte upp i Chicago och som översatte ett flertal Sherlock Holmes-berättelser.


---