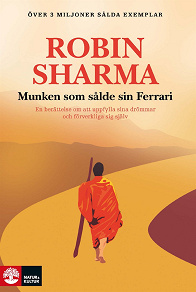 Isbn:
978-91-2713-634-2
Publisher:
Natur & Kultur
Category:
Psychology
Accessible since:
May 2013
---
Munken som sålde sin Ferrari
En arrogant värsting till stjärnadvokat, Julian Mantle, bränner ljuset i båda ändar och får en hjärtinfarkt i rättssalen. Tre år senare dyker han upp igen, totalt förändrad. Från att ha varit femtiotre år och sett ut som sjuttio är han nu tre år äldre, men ser ut som trettiofem. Under sin frånvaro har han nämligen vistats i en liten bergsby i Himalaya tillsammans med "the Sagers of Sivana". Dessa visa män (och kvinnor) är ett gammalt folk som känner till hemligheten med ett upplyst, lyckligt, framgångsrikt liv. Under en lång natt berättar han om sitt nya liv och om nyckeln till upplysning för vännen och kollegan John.
Munken som sålde sin Ferrari är en fängslande och underhållande skildring av en yttre och inre resa, där österländsk mystik möter det västerländska framgångstänkandet. Lättläst som en roman är denna bok som lovordas av bland andra Paolo Coelho (författare till Alkemisten): "The Monk Who Sold His Ferrari is a captivating story that teaches as it delights."
Christina Doctare har läst boken :
"Munken som sålde sin Ferrari är en spännande bok. Den / / visar på att det är möjligt att ändra sitt liv, och att omvändelse är en livsnödvändighet om man vill leva vidare när man sett döden i vitögat. Att läsa denhär boken är en ren njutning!"
Munken som sålde sin Ferrari har hittills översatts till tjugo språk och kommit ut i trettio länder.
Read sample
(Download)
---